July 4 th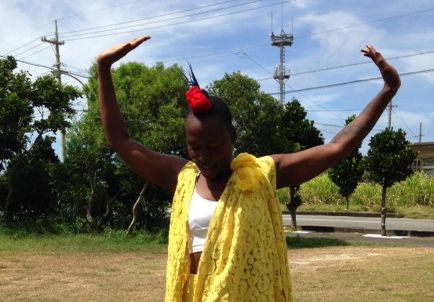 text:Aki Maeda
Nora's performance costume arrived. Costume was designed and made by Kiyokawa and dyed by Shinbow, a shashin player from Bise. It was dyed with Fukugi tree. Perhaps it was dyed with natural ingredient, the yellow was very calm and bright. Nora and Mizuno looked very happy about it.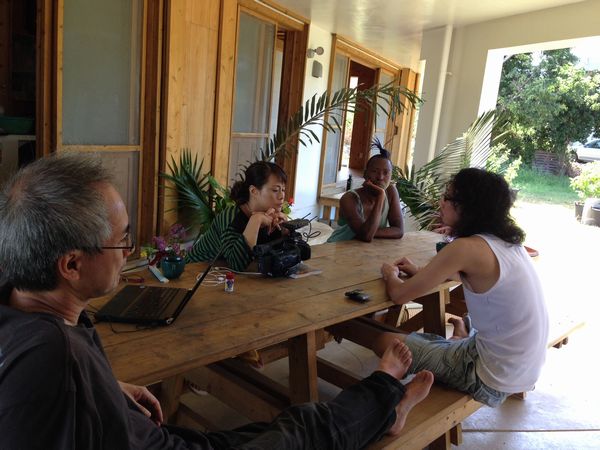 Around 2 o'clock, we decided to go to the beach which is 10 min walk from eco-house. I was just sitting on the beach but other member swam. They told me there were a lot of small fish. We spend time at chilling on the beach. Nora told me that, she likes being in the water, because she can feel her weight.
After we came back to the house, Mizuno started screaming that she got too much sun burn that she can't stand the pain.
July 5th
Nora is morning person. She went to beach again in the morning when everyone was still in the bed.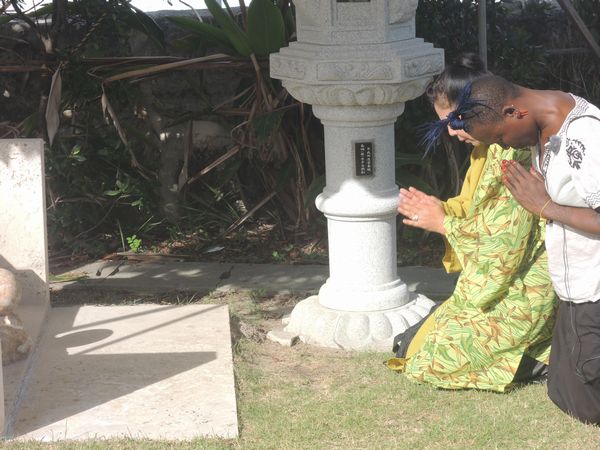 We visited to the sacred groves. The member of Miyako committee, Kyoko Ogawa introduced local Sherman. In Okinawa, Sherman is women's job. She is the person who is trying to revive the sacred groves which have not been used anymore.
She brought us to the one of the sacred groves that they have been cleaning. There was a dried well inside the sacred grove. When the well runs dried while ago, the related ritual and Kami-uta, Song of God, disappeared as well.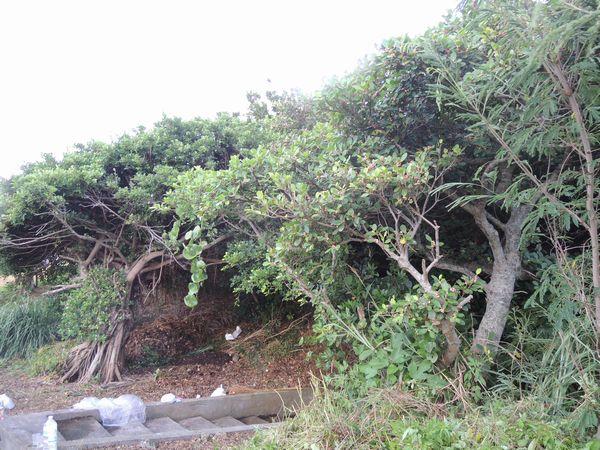 July 6th
Nora really liked the house we have been staying at. She was practicing at the garden in front of our house. Outside was very hot humid. I personally felt that her dance matches to the environment of Miyako. Her skin was shining under the sun light, even she wasn't moving she almost looked like an artistic object.
Today, she tried the new idea of stage set for her final performance in Ie-Island. Idea is putting white coral on the ground and dance on it. Since the site of final performance is outside and the ground is covered with green grass, the contrast of green and white seemed very beautiful. I am artist myself and I sometimes use red yarn for my installation work. Nora said she might use red yarn as well.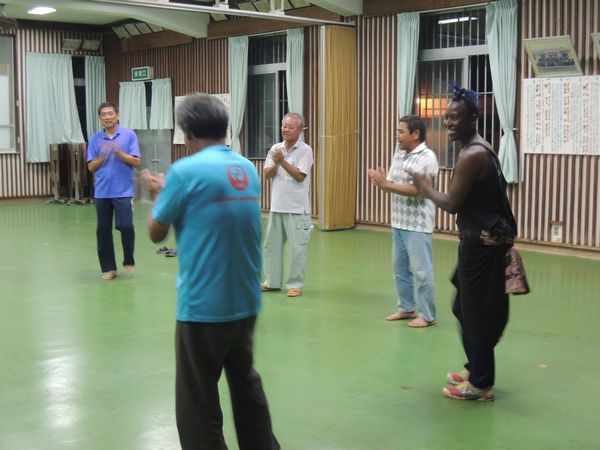 At night, a member of Miyako Committee Maezato, we call him Johnny, organized opportunity for Nora to learn about "Kui-Cha". It is a Miyako's typical traditional dance. Johnny is also a member of Kui-Cha festival, so he asked locals to hold this opportunity.
We went to community hall which is right next to the eco-house. When we were there, some local elder men were holding drinking party. They invited Nora very warmly, and started the lecture. First, they sit in circle and each person made speech and took a shot with Okinawan alcohol call Awamori. Finally when their speech and taking shot is done, they danced Kui Cha with Nora. The dance itself is very simple that Nora could dance it right away. Miyako had very unique tax system. The tax was called 'Jin-tou-zei'. Jin means a person, tou means head, and zei means tax. There is a rock in Miyako, which is height of 140 cm. In the past, when citizen of Miyako grew up to the height of the rock, they needed to pay extra tax. People suffered a lot with this tax system, and there a lot of songs and dance talks about this tax system. Old local men told us the history of it, and sang for us. Even they were having hard time, they always make songs and dance about the situation and transformed their pain to positive energy. I am really glad that Nora could experience it.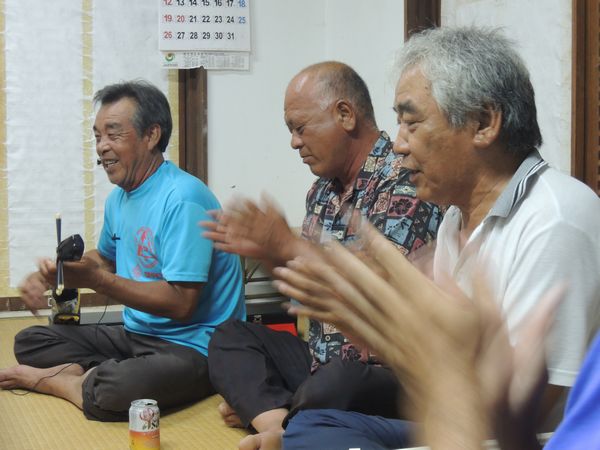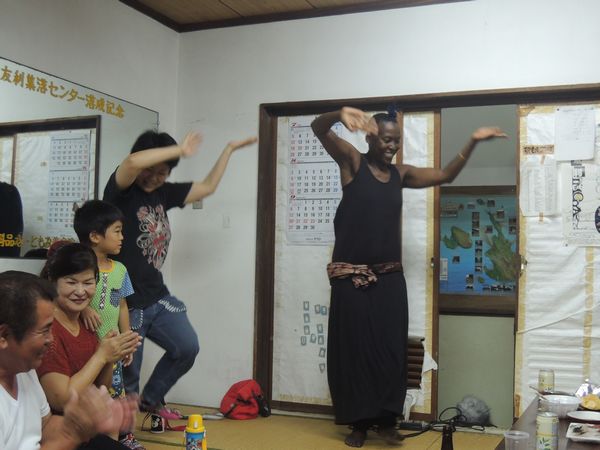 July 7th
Since there is no internet connection at eco house, we went to Johnny's office. Surprisingly, Johnny's mother is a teacher of Okinawan traditional dance called "Ryu-kyu Buyou". When we got to Johnny's office, it was right before the class started, Johnny's mother taught the dance to Nora. She also tried wearing traditional dance outfit. What a co-incidence, we were very lucky to have an opportunity to experience about traditional dance.
Afternoon, Ako, the member of Miyako committee brought us to Ogami-Island. The island is also called as "Island of God". It was very small island that currently, the population of the island is only about 20 people.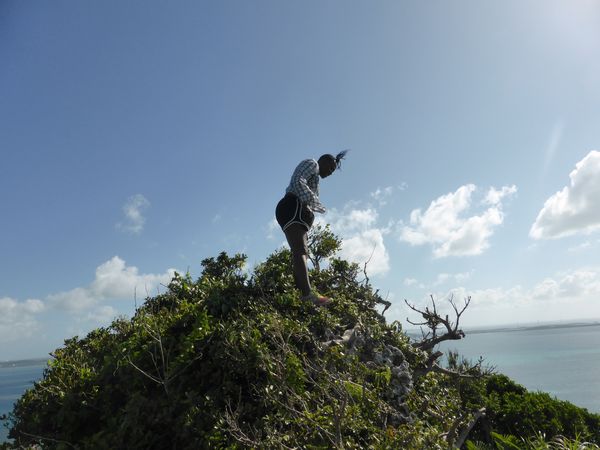 It was full of great nature. The tour in Ogami-Island started with greading to the sacred grove next to the port. First place we had visited was a mountain which there are a big rock on top of it, and the rock is called "Rock of God". When we arrived to the top of the mountain, Ako pulled Nora's hand started climbing the rock. From top of the rock, since the rock is at highest place of the island, the hole island could be seen. Nora seemed she really enjoyed the nature and view. She opened her arms and felt the wind with her entire body.
After that, we visited another sacred grove. The trees were making the shape of tunnel. The site was very cleaned and well maintained, that we could see local people still respects and cares the site.
At the end of the tour in Ogami-Island, we went to rocky beach. There were many big rocks coming out from the ocean and the composition of the rocks were making the shape of half moon. We could see so many fish in the sea. When we throw little piece of bread, a lot of hiding fish came out to eat it. Nora was keep throwing the bread, laughing and admiring how pretty they were.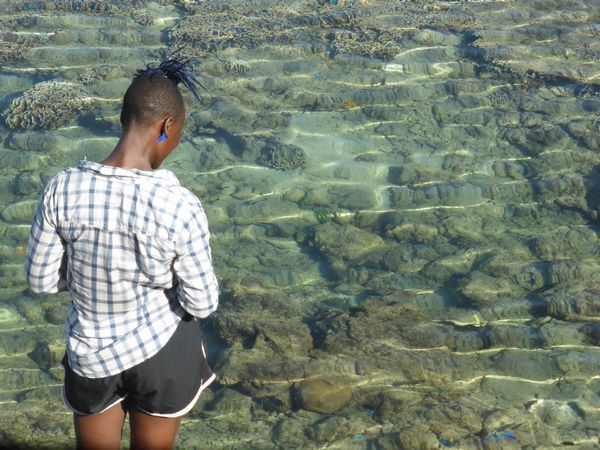 After we came back from Ogami-Island, we visited a cave. Where we only can enter during ebb tide. Inside of the cave is also sacred grove. During high tide, inside of the cave will be fulfilled with the water. So, there were some trash brought by the waves and remained at there. Some of the pet bottle was from other Asian countries.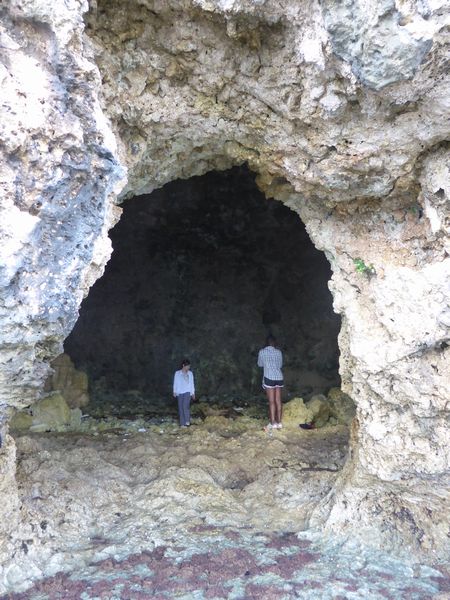 July 8th
Last day in Miyako was the day of Nora's artist talk and workshop. Although, the quota was 30 people, over 60 people actually came. The age range of the participants were also widely spread, youngest participant was 10 years old, oldest participant was over 60 years old. Some children learn ballet, some high school students learn Hip Hop dance, some of participants never danced before.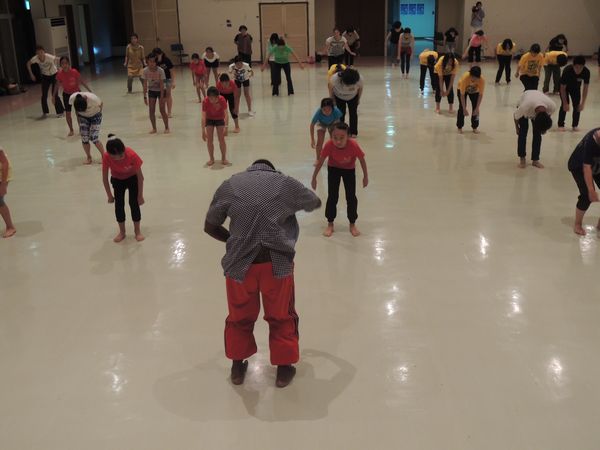 Nora was also surprised about the number of participants. It was my first time being a translator of dance work shop. The experience was almost too much for me that I could not be helpful for Nora. However, she immediately arranged her work shop that everybody can enjoy and maintain their concentration without much words explanation. It must be a hard challenge for her, but at the end it seemed that they enjoyed the workshop very much.
Because of the typhoon, we needed to leave Miyako one day earlier than our original plan. But the residency in Miyako became something that I can't forget. I hope the experience in Miyako will be something for Nora as well.
We really thank to everyone who supported us in Miyako. Thank you to all the members of Miyako committee: Kazumi Nema, Migita Ako, Shingo Maezato, Yuko Oshiro, and Kyoko Ogawa. We really appreciate your kindness, and hope that we can come back to Miyako someday.